3 Haydn Street,Windhoek - Private bag 13388 - Tel 061 207 2909 - Fax 061 207 2908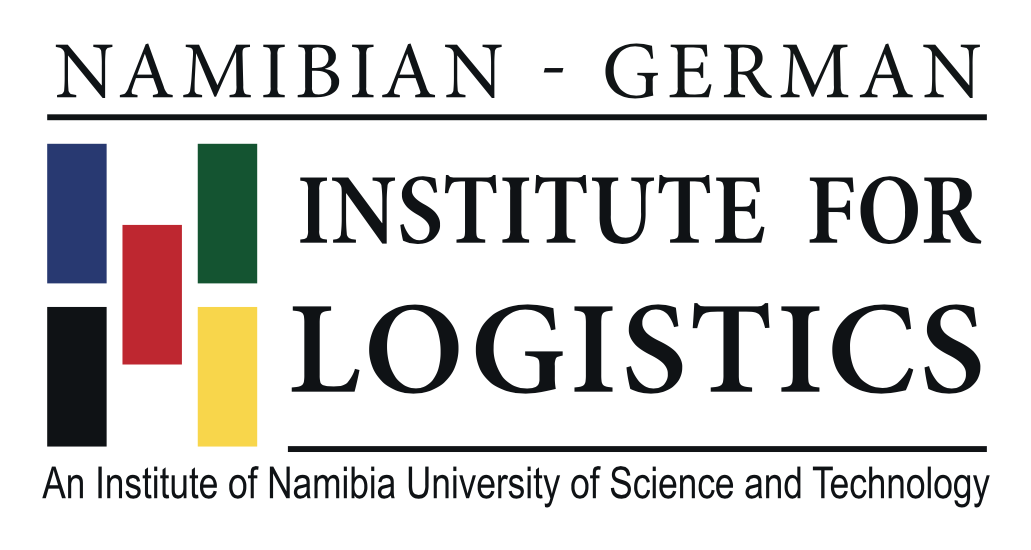 The Namibian-German Institute for Logistics
Without logistics, there is no economic development or activity at all. Logistics is the key activity in every economy and in our globalized world. To perform properly, logistics need know-how, skilled people, adequate infrastructure and appropriate technology.
The Namibian-German Institute for Logistics is unique in the region. We are the only ones to combine:


academic expertise with practical know-how in logistics,
research with economic skills,
practitioners with experts
state of the art logistics from Europe with familiarity of African markets

OUR MISSION
NGIL strives for excellence in logistics. Our mission is to contribute to the economic development of the country and the region by providing the expertise and strategies that promote and further logistics.
NGIL thus started its activities with education. But the Centre immediately expanded its activities with research since knowing and learning more about the specific conditions of logistics in Southern Africa is essential not only for proper education but also for developing new strategies for the industry.
Education
The Namibian-German Institute for Logistics holds numerous events throughout the year. This is whats on offer at the moment
In cooperation with the two partner universities NGIL is part of four academic programmes. These are:
Bachelor of Logistics and Supply Chain Management
Bachelor of Transport Management
Bachelor of Logistics and Supply Chain Management Honours
Master of Logistics and Supply Chain Management
Namibian-German Institute for Logistics (NGIL) a semiautonomous Institute of the Namibia University of Science and Technology in collaboration with BIZZCO, IMM Graduate School and the Chartered Institute of Logistics and Transport (CILT UK) offers the following courses. The courses are excellent initiatives for the education of Logistics, Transport and Supply Chain Management specialists, executives and research in Namibia, the SADC region and globally.
Programmes
Certificates in Logistics and Transport Level 3 (OFQUAL)
To register for a certificate programme, a candidate must hold an NSSC or equivalent qualification, with a minimum score of 18 points in five (5) subjects on the NUST Evaluation Scale, including an E in English and a E in Math.
Grade 10 with 5 years industry experience, Recognition of Prior Learning (RPL) to be considered
Applicants should also have access to internet & valid e-mail address
Professional Diploma in Logistics and Transport Level 5 (OFQUAL)
Admission Requirements
To register for a diploma programme, a candidate must hold an NSSC or equivalent qualification, with a minimum score of 22 in five (5) subjects on the NUST Evaluation Scale, including an E in English and a D in Math.
CILT UK L3 or Any other equivalent NQA Level 4 in logistics or recognised qualification
Applicants should also have access to internet & valid e-mail address
Advanced Diploma in Logistics and Transport Level 6 (OFQUAL)
Admission Requirements
To qualify for admission to the Advance Diploma, a candidate must meet the following minimum requirements:
CILT UK L5 diploma in Logistics and Transport or any other equivalent recognised NQA L5 recognised qualification.
Applicants should also have access to internet & valid e-mail address
Contact Information:
Ms. Vista Gosbert, or Ms. Naheeda Van Wyk
Tel: 061 207 2135/ 061 207 2909
Email: vgosbert@nust.na / ngclmarketing@nust.na
Training and Short courses
In order to keep up with competitors and to use resources more efficiently, logistics and transport professionals need constant continuing education in their field. To facilitate the continuous education and development of logistics and transport professionals the centre has secured Accredited Education Provider status for some renowned professional bodies:
Chartered Institute for Procurement and Supply
Operations Management Association for Southern Africa

The Institute is also member of the Supply Chain Council. As Accredited Education Provider for CILT, we have many years of experience in offering the following qualifications: "Advanced Diploma in Transport and Logistics" in Windhoek, Luderitz and Walvis Bay "Professional Diploma in Transport and Logistics" in , Windhoek, Walvis Bay and Tsumeb currently For your convenience, we do also offer tailor-made training for your staff, just contact Brighten for a meeting to discuss Requirements
The Namibian-German Institute for Logistics holds numerous events throughout the year. This is whats on offer at the moment